2023 Symposium, Tours, and Events
The Know Your Chicago Committee takes great pride in welcoming you to our 74th season of civic engagement with the Chicago community.
This year, our amazing season offers in-person Tours, Presentations, and Events in addition to our fan-favorite Symposium at The Union League Club of Chicago. We are once again pleased to partner with distinguished organizations and neighborhoods across the city to:
Discover the artist community of Ragdale in Lake Forest

Tour Chicago monuments to learn about their history and future

Be introduced to The 78, which will be Chicago's incredible 78th neighborhood

Learn about the brain and how to keep it healthy as we age
Notable speakers will introduce these four topics, providing high-level, expert overviews to further orient and excite you for our upcoming Tours and more at our Symposium on Wednesday, September 13. This year, the Symposium is again being held in the lovely Lincoln Ballroom at the Union League Club of Chicago, conveniently located at 65 West Jackson Boulevard.
Registration for our 2023 season begins on July 24. Welcome to our exciting 74th season! It'll be wonderful to see you in person. In the meantime, we hope you have a happy and healthy summer.
With best wishes,
Linda Woloshin, Chair
Know Your Chicago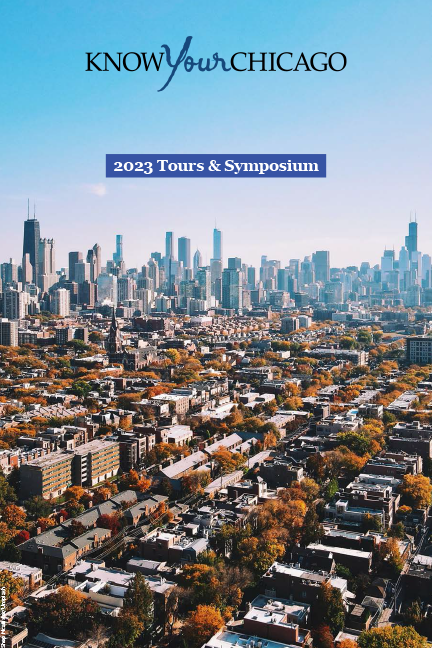 2023 Schedule
Wednesday, September 13
Registration and light breakfast begin at 8:00 a.m.
Program begins at 9:00 a.m. and ends at 2:00 p.m., includes lunch
The Union League Club of Chicago, 65 W Jackson Boulevard;
please note, the ULCC is offering a reduced room price for those who would like to stay the night before
Tour 1—Monumental Decisions: Statues from the Past
Thursday, September 21
8:30 a.m.–2:00 p.m. or 10:00 a.m.–2:00 p.m. (see options on tour page), includes lunch
Chicago History Museum
Tour 2—Ragdale: Where Artists Come to Create on a Country Estate
Wednesday, September 27 or Thursday, September 28
8:30 a.m.–3:00 p.m., includes lunch
Ragdale Campus, Lake Forest
Event 1—The 78: A Dynamic New Neighborhood Debuts
Thursday, October 5
5:30–7:30 p.m., includes cocktails and hors d'oeuvres
The Union League Club of Chicago, 65 W Jackson Boulevard
Event 2—Brain Health: Innovation, Inspiration, and Hope
Wednesday, October 11 [SOLD OUT]
10:00 a.m.–3:00 p.m., includes lunch
The Arts Club, 201 East Ontario
or
Saturday, October 7
10:00 a.m.–3:00 p.m., includes lunch
Simpson-Querrey Auditorium,
Northwestern Medical Center Campus, 303 East Superior
Registration
Online registration
Register online, beginning at 9 a.m. on Monday, July 24.
Register with a friend
Online registration allows you to register groups of five or smaller. Please have your guests' contact information handy if you plan to register for others.
Register by phone
Those without access to online registration may register by phone at 773.702.1731. We try to respond to all registration phone calls within 24 hours.
Symposium, tour, and event prices
Tickets cost $110 each per person
Walking grades and tour questions
Please consult the walking grade accompanying each tour and event description for an indication of the difficulty of each tour and event. Walking shoes are always recommended.
Contact
Know Your Chicago
773.702.1731
fiona3@uchicago.edu
 
Transportation
Tour transportation
Our Monumental Decisions and Ragdale tours offer transportation options. As in previous years, participants may board a charter bus on the north side of Adams between Clinton and Jefferson. Buses depart promptly at 8:30 a.m. and return by 3:15 p.m. This year, those attending the Monumental Decisions tour have the option of forgoing the bus ride past various monuments to meet at the Chicago History Museum at 10:00 a.m. Those attending the Ragdale tour have the option of meeting at Old Orchard Shopping Center where the KYC bus will stop and pick up participants at approximately 9:30 a.m. Participants will be dropped off at the same location at about 2 p.m. Ticket holders for these two tours will state their preference when registering. 
Symposium transportation
On symposium day, participants go directly to Union League Club of Chicago.
Public Transportation to the Union League Club includes:
Buses that pass near the Union League Club
• 144 • 126 • 62 • 22
L Stations near the ULC include:
• Jackson
• Dearborn and Adams
• State and Van Buren
• LaSalle and Van Buren
Parking Near the Union League Club
• South Loop Garage, 318 S. Federal
• 111 W Jackson Blvd Garage
• 300 S State Street Parking
• Buddy's Parking
• 61 W Adams Street Parking
• 111 W Adams Street Parking
Statement of nondiscrimination
In keeping with its long-standing tradition and policies, the University of Chicago considers students, employees, applicants for admission or employment, and those seeking access to programs on the basis of individual merit. The University, therefore, does not discriminate on the basis of race, color, religion, sex, sexual orientation, gender identity, national or ethnic origin, age, disability, or veteran status, and does not discriminate against members of protected classes under the law. The Affirmative Action Office (773.702.5671) is the University official responsible for coordinating the University's adherence to this policy and the related federal, state, and local laws and regulations (including Section 504 or the Rehabilitation Act of 1973, as amended, and the Americans with Disabilities Act).