The 78 – A Dynamic New Neighborhood Debuts
Emerging on vacant land that once served shipping and rail activities, The 78 becomes Chicago's newest neighborhood, adding to the existing 77. Extending a half-mile on the Chicago River's South Branch, this 62-acre site is bounded by Roosevelt Road, Clark Street, 15th Street, and the River. Visionary and unique, The 78 will offer handsome new residences, commercial enterprises, an academic, research and technology hub, cultural events, expansive parks, open space amenities, and transformative riverfront design. 
The 78 will be a stimulating destination in the heart of the city in which to reside, work, study, research, recreate, tour, and explore. Cutting-edge infrastructure of road, rail, river, and pedestrian routes will benefit access to the historic neighborhoods of Chinatown, Pilsen, Little Italy, Bronzeville, and Bridgeport, better connecting them to the Loop and South Loop.
Join us for a congenial evening reception at the Union League Club of Chicago featuring a panel of experts, including leaders from Related Midwest, Discovery Partners Institute, and a noted Chicago cartographer/historian. The panel will discuss the district's history, The 78's master plan by Skidmore, Owings & Merrill, and the design process, infrastructure, development, financing, and economic development.
Discovery Partners Institute, led by the University of Illinois System, anchors the Innovation District of The 78. Its stunning structure, designed by architecture firm OMA, is scheduled to break ground in 2024. Top regional, national, and international research universities and Argonne National Laboratory, in conjunction with public and private sources, are collaborating to attract, educate, and retain talent in Illinois. Welcome to a front row seat of this ambitious 20 to 30-year project, destined to enhance the way the world thinks about Chicago.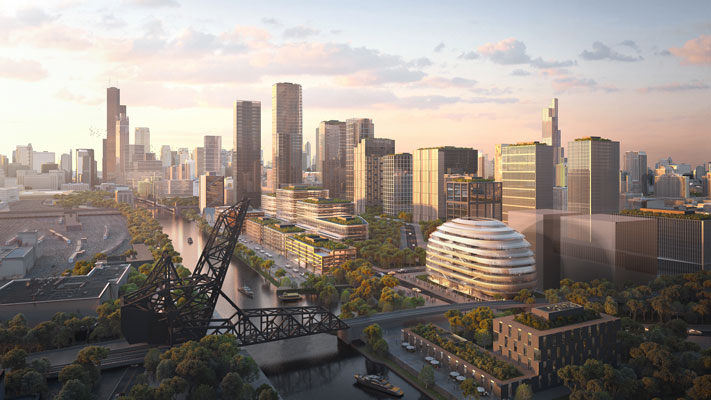 Thursday, October 5
5:30–7:30 p.m.; includes cocktails and hors d'oeuvres
The Union League Club of Chicago
65 W Jackson Boulevard